Choir
25/10/2022-11:00

-

12:30

|

Recurring Event

(See all)

One event on 25/10/2022 at 11:00

₪70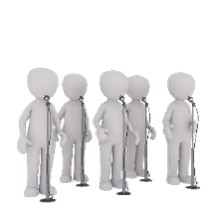 Choir
We are pleased to announce that AACI Netanya choir is restarting under the direction of a new and very experienced Music Director, Uta Dagan.
Our choir is made up of a friendly bunch, united by a love of singing, so if you enjoy singing then this is for you, you don't need to be able to read music.
Meetings are at Netanya AACI on Tuesdays 11.00am to 12.30pm
Meeting Dates: 18 & 25 October (NIS 70)
Weekly from November (NIS 140 (for 4 weeks) or NIS 175 per month (for five weeks)
Fee: Payment monthly in advance at Netanya AAC box office (call our box office 09-8330950)
or via purchasing a ticket online below
Participants in choir must be members of Netanya AACI
Meet Music Director Uta Dagan
From 2006 to 2011 Uta studied and completed a master's degree in jazz-pop-rock singing, composing and teaching music at the Higher School of Music and Theatre in Hanover. During that time, she taught voice development, improvisation and song writing in music schools in Berlin, Wolfsburg and Hanover, in workshops and privately.
Uta came to live in Israel in in 2013.
She served as a vocal supervisor in the "Nona" choir in Maagan Michael, taught voice development at the Or Akiva Conservatory, served as a music instructor and voice development teacher in the "Etgar Band" (at the "Etgar" residence for people with special needs at Kibbutz Lehavot Haviva), and at The Misgav Regional Elementary School in Kibbutz Givat Haim. In the years 2016-2018, she instructed the vocal ensemble of the music department at Hof Hasharon High School. Since 2016, she has been teaching voice development at the Tzur Moshe Conservatory. She also privately teaches voice development, jazz and improvisation and performs as a singer at various events.
In 2017 Uta joined the "Alma – Israeli Female Voice" ensemble and often performs in musical performances around the country.
In the 2018-2019 school year, she served as a music teacher in first and sixth grades at the "Yuvalim" school in Givat Haim Meuchad and as the choir instructor at the Avihayil elementary school as part of the "Emek Sher" project.
Uta is fluent in Hebrew, German and English .
Related Events