Dance the Night Away at Netanya AACI – POSTPONED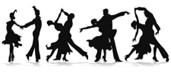 Dance the Night Away at Netanya AACI – POSTPONED
7.30pm Thursday 7 September
Join us for a lovely evening of social dancing. Light refreshments will be served.
Social dancing is couple dancing where the dancers are holding each other most of the time. Like "Dancing for Stars" but for ordinary people.
Steve Silberman will demonstrate the basics of leading and following in the ballroom dancing position. Then we will dance the "slow dance", "country waltz", "rock and roll" or whatever you want to dance.
The evening will be mostly dancing with occasional brief demonstrations.
The music will be teriffic, come and join the fun even if you don't want to dance.
For information and to buy tickets call the box office 0-9833 0950 or purchase tickets below.
Members prepaid NIS 40
Members at the door NIS 50
Non-members NIS 60
Related Events