Israel: Where We Are and Where We're Going in Domestic and International Politics – with Ambassador Michael Oren
06/12-19:30
₪50.00 – ₪70.00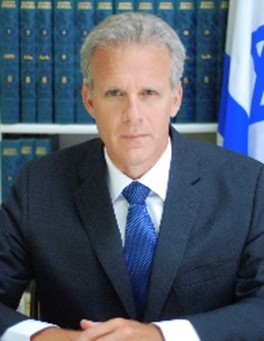 Israel: Where We Are and Where We're Going in Domestic and International Politics
Guest Lecturer: Ambassador Michael Oren
19:30 Wednesday 6 December
On Zoom Only
Netanya AACI is honored to welcome statesman, historian and parliamentarian, Ambassador Michael Oren who has devoted his life to serving Israel and the Jewish people around the world.
As a Member of Knesset and Deputy Minister in the Prime Minister's Office, he interacted with foreign leaders and defended Israel in the media. He spearheaded efforts to strengthen Israel-Diaspora relations, to develop the Golan Heights, and to fight BDS. As Chairman of a classified subcommittee, he dealt with some of Israel's most sensitive security issues.
Prior to that, for nearly five years, Dr. Oren served as Israel's Ambassador to the United States. He was instrumental in obtaining US defense aid, especially for the Iron Dome system, and American loan guarantees for Israel's economy. He built bridges with diverse communities across the nation, wrote dozens of op-eds and conducted hundreds of media interviews, fortifying the U.S.-Israel alliance.
A graduate of Princeton and Columbia, Dr. Oren was a visiting professor at Harvard, Yale, and Georgetown. He holds four honourary doctorates and was awarded the Statesman of the Year Medal by the Washington Institute for Near East Policy and the Dr. Martin Luther King Legacy Prize for International Service. Three of his books were New York Times bestsellers. He received the Los Angeles Times History Book of the Year Award, a National Humanities prize, and the Jewish Book Award. Frequently interviewed by the U.S. and international press, he has appeared on the Stephen Colbert and Bill Maher shows, 60 Minutes, and the View. He was the Middle East analyst for CBS and CNN.
Raised in New Jersey, Michael Oren made Aliyah in the 1970s, was an emissary to Jewish refuseniks in the Soviet Union and won two gold medals in the Maccabiah Games. In the Israel Defense Forces, he served as a Lone Soldier in the paratroopers and as an IDF Spokesman, participating in several wars and reaching the rank of Major. He established the Lone Soldier caucus in the Knesset.
Michael Oren was named by Politico as one of the fifty most influential thinkers in America, by the Forward as one of the five most influential Jews in America, and by the Jerusalem Post as one of the ten most influential Jews worldwide.
Michael is the father of three, grandfather of five, and lives in Jaffa.
Ambassador Oren will discuss updates on Israeli and American politics, elections, relations and other timely news.
Members pre-paid NIS 50
Non-members NIS 70 
Related Events