Songs We Grew Up With presented by Angela Jenshil and Clive Noble
13/08-7:30 pm
₪40.00 – ₪60.00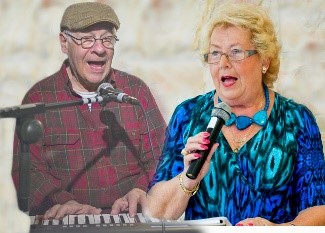 Songs We Grew Up With
presented by Angela Jenshil and Clive Noble
7.30pm Sunday 13 August
Angela Jenshil is a popular entertainer who delights audiences with her powerful voice and large repertoire of favourite songs. Angela grew up in England and gave her first performance at the age of 16. She has sung in musicals and performed for many charities. She made Aliyah to Netanya in 2008 and is well-known here for her great musical entertainment.
Clive Noble started his music career at the age of five when his father acquired a piano in return for a loan that couldn't be repaid to him. He was fascinated by this instrument and started to make up tunes. He was sent to a strict piano teacher, but they didn't get on because he wanted to play his tunes so, after three months, his formal music education finished.
Clive has played with many bands, groups, duos, trios and even some solo work in many different genres of music and the magic of music and playing has never worn off.
Angela and Clive have put together an evening of standards, songs from shows, and popular and nostalgic music they grew up with in the 50s and 60s and enjoy singing.
The evening will start with a "Sing Along of Oldies" for everyone to join in. Come and enjoy this evening of songs.
Members pre-paid NIS 40           
Members at door NIS 50      
Non-Members NIS 60
Related Events